Dr. Eben Alexander M.D is an American neurosurgeon and the author of the best-selling Proof of Heaven: A Neurosurgeon's Journey into the Afterlife, in which he describes his 2008 near-death experience and asserts that science can and will determine that heaven really does exist. As of January, 2013, Proof of Heaven has been on the The New Rork Times bestseller list for eleven weeks. In October 2012 he was on the front cover of Newsweek, and he has recently appeared on Oprah's Soul- series, on ABC News with Diane Sawyer, Fox News and most recently on the Katie show. You can find more information about Eben's work here:
www.lifebeyonddeath.net
This interview was first published in February 2013.
Harness the Wisdom, Wonder & Life-Affirming Power of Near-Death Experiences with Eben Alexander and Karen Newell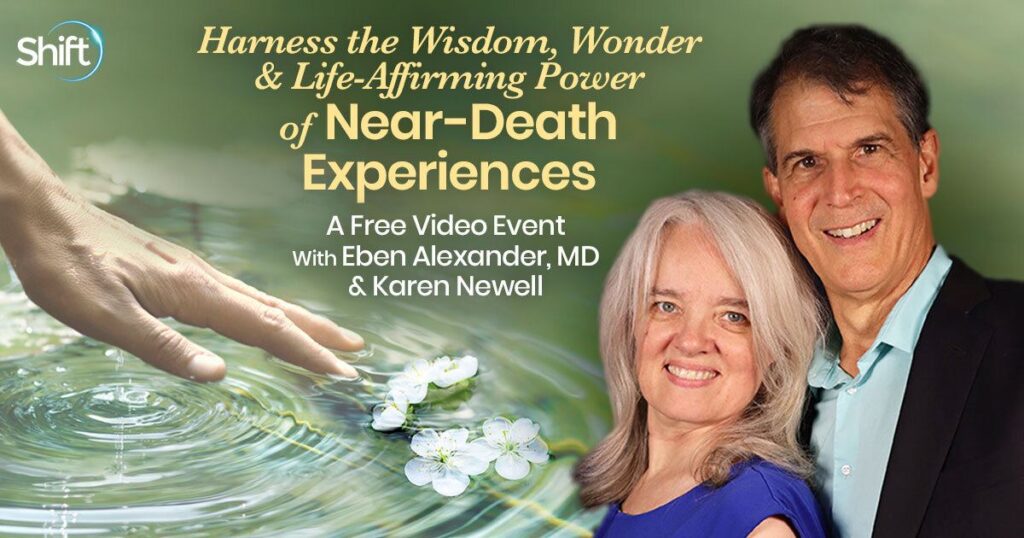 One of the most painful realities we face in life is how to live in a world where those we loved most have physically departed.
While it's certainly normal to feel waves of grief, fear, and uncertainty in the aftermath of loss…
… many of us become paralyzed by these emotions, losing precious time with the life that remains.
Renowned neurosurgeon Eben Alexander and sound-journey facilitator Karen Newell believe that overwhelming proof of life after physical death can relieve us of these fears, heavy emotions, and the pain of separation…
… bringing us into an even deeper connection with departed loved ones, the true meaning of our lives, and the oneness of All That Is.
On Saturday, August 13, with Eben and Karen, you'll lift the veil on the mysteries of the afterlife by exploring the remarkable commonalities of near-death experiences across cultures and time, easing the fear of death and the pain of separation — and reconnecting to joy and the eternity of life.
You can register here for Harness the Wisdom, Wonder & Life-Affirming Power of Near-Death Experiences