I am so excited for you to see this interview about living on purpose with NLP coach Leigh Bundy. Leigh shares very openly and vulnerably about his past and the struggles he has been through. He tells us about the difficult childhood he had, how he was bullied and had trouble hearing as a young boy, and how that affected him also later in life. He was not always the successful coach he is today.
Because of all he went through, for a while he was very focused on the facade and being popular. And then, as he mentions in this interview, it suddenly all fell to pieces and he had to build himself up again, and learn to love himself again.
One of the amazing things is how he now has allowed his story to mean something more and uses it to help others find their state of flow and live life intentionally.
Live on purpose – Open up to more flow and love in your life
Already at four years old, Leigh knew he wanted to be different, but in his teenage years and young adult life he became wrapped up in unhealthy things that led to dangerous situations.
He shares honestly about how a broken engagement and other decisions left him with a huge amount of debt and left him in a dark place for several months. But in that low and dark time, he came across the world of coaching, which totally changed his life, and made him realize there is more to life than facade and money.
Do you want more flow in your life?
Have you ever asked yourself how you can get into the zone where you are really inspired? A state of flow? According to Leigh Bundy, it is not as complicated as you think. With the right passion and energy, anything is possible. And towards the end of this conversation, you get some concrete examples of how you can get into a state of flow, live life on purpose, and how you can open up for more love in your life.
About Leigh Bundy
Leigh is a TEDx speaker, NLP coach, and the CEO of "The Ultimate Flow Experience". He has helped and coached thousands of people and we are very thankful to have him as one of our brilliant masterclass speakers.
One of the great things about Leigh is that he has hit rock bottom more than once and always gets back up with a new insight.
In this conversation, he shares great and interesting examples of how NLP coaching actually works, and the science behind the flow state.
Please enjoy and get inspired.
Stop taking action until you learn this!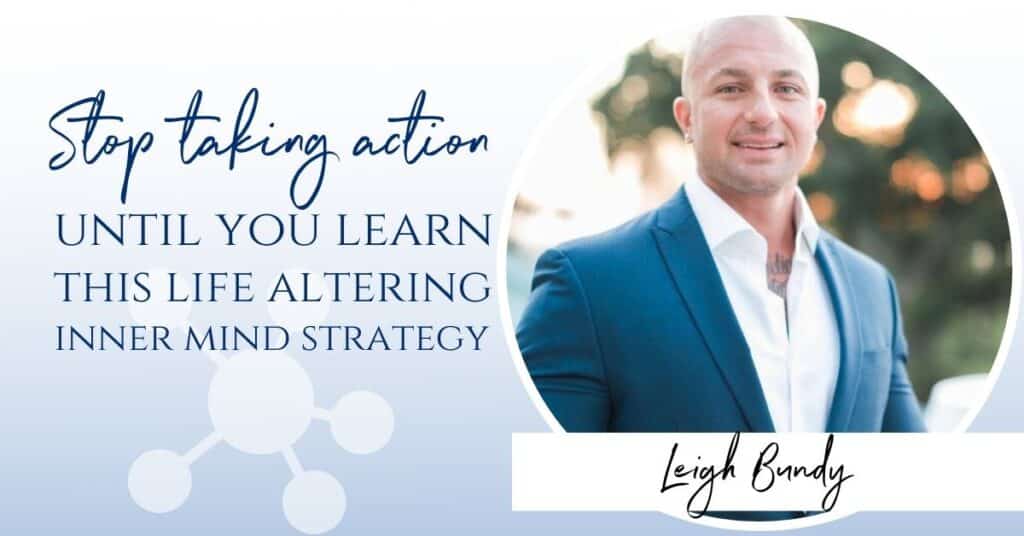 Imagine getting up in the morning and programming yourself for success with a strategy that has changed hundreds of people's lives. In his masterclass, Leigh Bundy gives us a step-by-step guide to his successful, inner mind strategy. It's all about how we can become conscious, knowing, and intentional creators. Curious about this class? It's available in The Membership. More about that here >>
Links & Resources