Interview with Gregg Braden on science & spirituality
Interviewing Gregg Braden was a huge honor for me. I have followed him for over a decade now and I admire his work greatly.
In our interview Gregg Braden shares the false assumptions we have carried for hundreds of years and the new discoveries. These discoveries show that that spirituality is deep connected with science.
About Gregg Braden
Gregg Braden is a five-time New York Times best-selling author and is internationally renowned as a pioneer in bridging science, spirituality and human potential. He is like the bridge between science and indigenous knowledge to create real-world solutions for today. Following successful careers in the energy and defense industries, he became the first technical operations manager for Cisco Systems in 1991.
Check out Gregg's newest book: The Wisdom Codes: Ancient Words to Rewire Our Brains and Heal Our Hearts
FREE Online Event with Gregg Braden!
Did you know that new research shows you are literally wired for maximum human potential?
I recently watched this free video event with Gregg Braden addressing how new discoveries are now showing that we're not what we've been told. Instead we are far more than we have ever imagined…
What we thought we knew about the human condition and the very origins of humanity has been misinterpreted and misunderstood…
In this free online event, that I highly recommend not to miss, Gregg will share the new science. The new science that exposes the limiting beliefs we've held about who we are and where we come from.
Choose your preferred day and time to watch this FREE video event here
In this mind-expanding mini-workshop with Gregg, you'll find out how these new scientific discoveries have the potential to change the way you think about yourself, your relationship to your body, to others, to the earth, and even to God.
You'll also discover:
How new discoveries have overturned 150 years of scientific thinking — and why that's relevant to YOUR life story

How to tap into your innate capacity to leap beyond self-limiting thoughts and behaviors and step into the grandest vision of the life you once thought was beyond your reach

How to access your deep intuition on demand through heart-brain harmonization

How to enhance your ability to self-regulate so that you can choose to create a powerful immune response, activate longevity enzymes, and move into the gamma state at will to access deep levels of perception

How to work with your mirror neurons to open new doorways to accelerated learning

Join this enticing hour that will reveal what you're actually capable of achieving and becoming!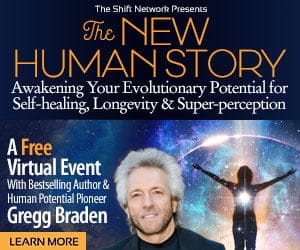 Wisdom From North AS is proud to be an affiliate of The Shift Network