Interview with spiritual teacher Eva Andrea
Our intention these days is to give perspectives on these challenging times. To gain more clarity on how we can meet them in the most empowering way. We are truly dealing with something unprecedented. But that also means an opportunity to grow and expand and connect deeper with the truth of who we are.
Here I am interviewing the spiritual author Eva Andrea about the real and raw experiences of the transformational darknesses. We're talking about the gift in darkness, about the glass girl and glass boy, the sometimes challenging Kundalini energies and how we can dance with unknowing. Especially the unknowing that we are experiencing these days.
About Eva Andrea
Eva Andrea is a highly recognized Danish spiritual teacher and author. She has been open about her own spiritual journey and her own experiences with the dark nights of the soul. Eva Andrea is the author of the two books: And I awakened (Og jeg vaknede) and Behind everything I hear your song (Bakom alt kan jeg høre din sang).
Do you experience darkness in these times?
A sense of confusion, blindness, abandonment? Maybe feeling you've lost connection with your Source – or just this feeling of walking in no-mans-land? Then you may be in a Dark Night of the Soul. Nothing is wrong with you, actually something BEAUTIFUL is happening on a soul level.
To support you on your journey and in this often challenging time, Eva Andrea has created a program called "Light-infusion – for The Dark Night of the Soul"
This program is created especially for conscious souls like you. To bring light and aid when experiencing a Dark Night of the Soul. This part of the transformational circle can be SO hard to go through. Every time we step into a new circle of expansion on our soul journey, we meet darkness. (Even if parts of us really, really want to avoid this bit.)

Light-infusion – for The Dark Night of the Soul
The online program with Eva Andrea gives you 5 sessions with insights and light bringing practices-for conscious souls. Eva will bring you light infusions in a practical way, so you can walk with trust and grace through the night – and into your bright morning.
You can access the program here.
The program is in English.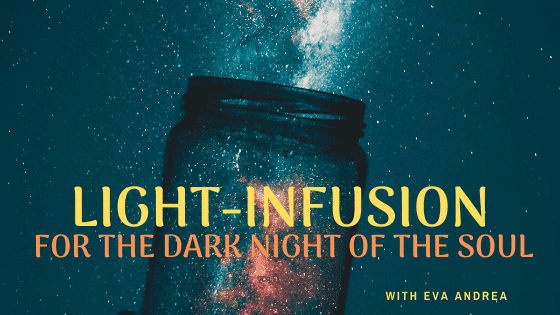 Wisdom From North is an affiliate of Ditlefsen Group. Thank you for supporting.