Free Interview-Series
Do you ever wonder what it feels like to truly live life without anything holding you back? To feel free & complete because you've discovered,
recovered, and accepted every bit of yourself?

What's even better is that this type of personal freedom expands and is
contagious! Imagine sharing this feeling to everyone you encounter. But how? Is it possible?

I am a firm believer, that you can do this by becoming a conscious
creator of your life. Now, what does it mean to be a conscious creator?

A conscious creator is someone who is mindful and aware of the impact
they are making on themselves, others and their reality in the present
moment. It is someone who is owning their divine light. My friend
Janet Miller and I are on a mission to spread the freedom that comes
from Owning Your Divine Light!


Welcome to "Own Your Divine Light Show"- Unlock Your Passion, Ignite Your Authenticity, and Finally Create the Life You Love!
Janet Miller is now hosting the Season 2 of Own Your Divine Light Show
This show will help you to unlock your ability to be aware of what your reactions are, your attitude, & the quality of your daily living.

It starts on October 21' 2019 and it is FREE! Come & join us!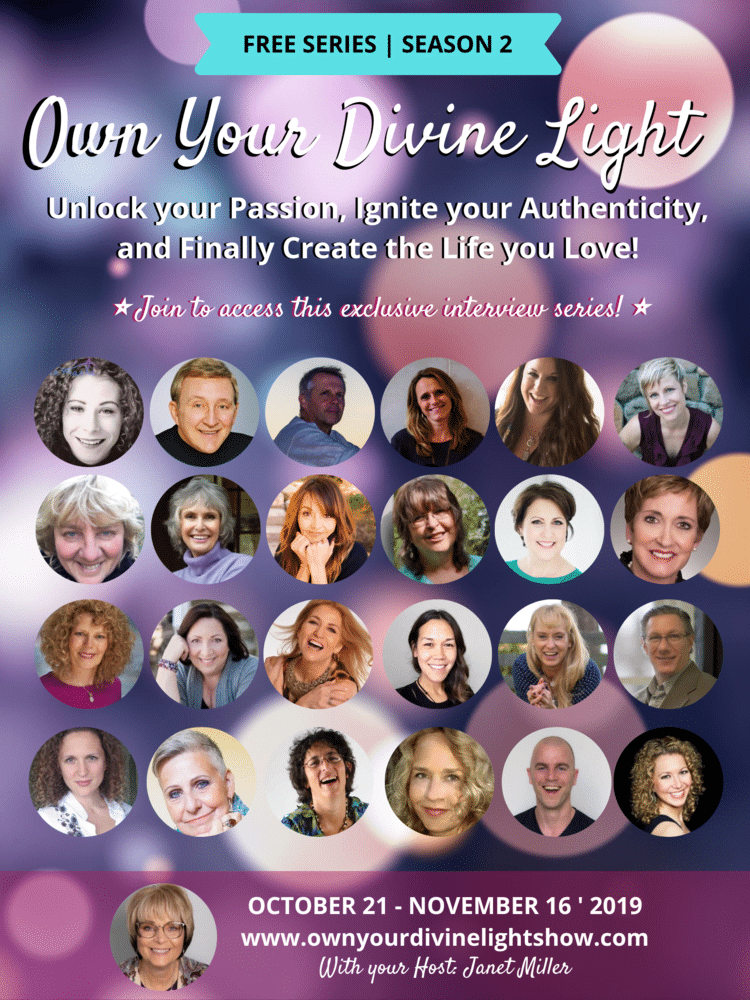 If your life is not where you want it to be, this show will provide you fresh ideas that will get you there, or if you just want to raise your frequency and be inspired, then come on and join us!
When you go to the link above and sign up for this series of powerful conversations with 20+ experts, including me, you'll discover practical advice for recognizing the patterns and beliefs that stop you from having the life you want, and learning new ways of thinking and being so you can heal the wounds of past trauma and change your life.
I feel Janet is the perfect person to host this interview series. She helps people recognize their wounds from trauma, glean the lessons from those wounds, and move forward in healing and self-love.

Can't wait to "see" you there
P.S. You have more power than you realize! When you can finally recognize the patterns you developed as a result of experiencing trauma, you can actually break those patterns—and break free.
Much light ✨ from Jannecke